The Mind & the Moon: A talk about the mind, brain, human dignity and spirit
04/03/2023 01:00 PM - 02:30 PM ET
Description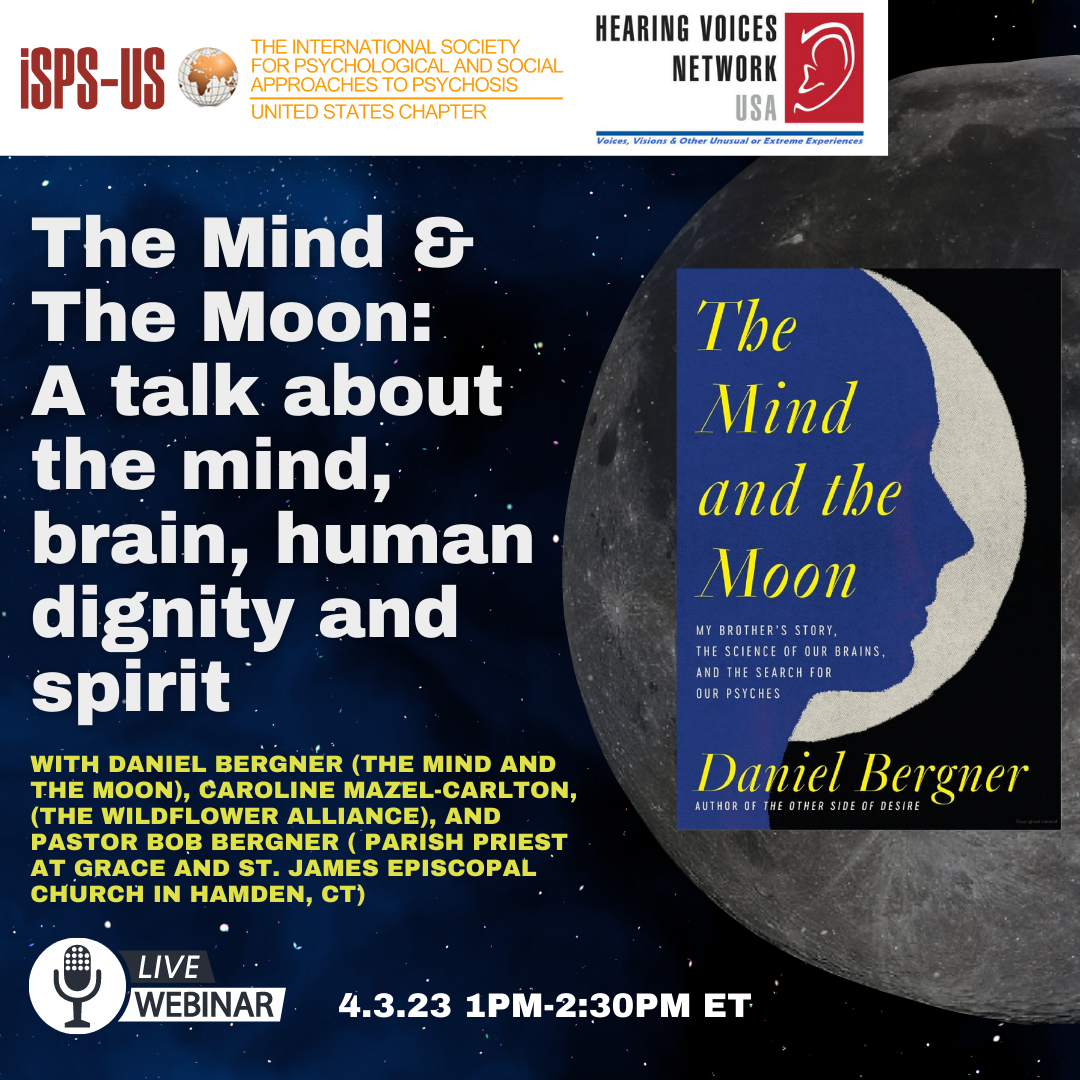 Join New York Times writer and author Daniel Bergner (The Mind and the Moon), Caroline Mazel-Carlton, Director of Training for the Western the Wildflower Alliance (formerly known as the Western Mass Recovery Learning Community or RLC), and Pastor Bob Bergner, Parish Priest at Grace and St. James Episcopal Church in Hamden, CT, and the author's brother, in a conversation about the limits of current biochemical theories of the brain to illuminate the human mind.
The Mind and the Moon: My Brother's Story, the Science of Our Brains, and the Search for Our Psyches raises profound questions about how we understand ourselves and the essential human divide between our brains and our minds. It is the story of three individuals: Bob Bergner; Caroline Mazel-Carlton, and a man named David, who variously experience overwhelming depression, anxiety, and other kinds of distress, including symptoms of what commonly gets called 'psychosis.' Bergner interweaves their stories and experiences with a history of psychiatric drug development, modes of treatment, and the marketing of psycho-pharmaceuticals. He poses questions about the ethical challenges, complex social issues andother problems of modern biological psychiatry, and he makes a strong case that radicalexamination and change are urgently required. The Mind and the Moon "is a book of thought-provoking reframings, delving into the science--and spirit--of our psyches. It is about vulnerability and personal dignity, the terrifying choices confronted by families and patients, and the prospect of alternatives. In The Mind and the Moon, Bergner explores how to seek a deeper engagement with ourselves and one another--and how to find a better path toward caring for our minds."
Can't make it live? Don't worry a recording will be sent to all those who register.


About the presenter(s):
Daniel Bergner is a staff writer for the New York Times Magazine and the author of three books of nonfiction: The Mind and the Moon: My Brother's Story, the Science of Our Brains, and the Search for Our Psyches; IN THE LAND OF MAGIC SOLDIERS: A STORY OF WHITE AND BLACK IN WEST AFRICA, a Los Angeles Times Best Book of the Year, and GOD OF THE RODEO: THE QUEST FOR REDEMPTION IN LOUISIANA'S ANGOLA PRISON, a New York Times Notable Book of the Year. Bergner's writing has also appeared in Granta, Harper's, Mother Jones, Talk, the New York Times Book Review, and on the op-ed page of the New York Times.
Caroline Mazel-Carlton, Director of Training for the Wildflower Alliance (formerly known as theWestern Mass Recovery Learning Community or RLC), who, since moving out of a staffed psychiatric group home in 2009, has worked tirelessly to create change in the mental health system and has developed and re-defined peer roles in a number of settings in the public and private sector. In her current position she has supported the development of the "Alternatives to Suicide" approach in multiple countries, and has contributed to many academic publications as well as a book that includes her experience skating on a roller derby team as #18 "Mazel Tov Cocktail."
Bob Bergner is an Episcopal priest and musician living in New Haven, Connecticut. Bob is the pastor at Grace and St Peter's Church in Hamden, Connecticut. Over the past decade, he has been a principal initiator of several music-based community service programs, including the Music Visitation Program at Yale New Haven Hospital and Yale New Haven Psychiatric Hospital; Sunday afternoon Music and Song at Columbus House, the largest New Haven shelter for those experiencing homelessness; and, semi-monthly lunchtime sing-alongs at Hamden's Miller Senior Center. Bob is also on the organizing committee for Dinner for a Dollar, a weekend community-building meal program in Hamden that serves 150 to 200 hot, healthy and appetizing dinners each week. Bob holds degrees from Harvard University, McGill University, the Montreal Diocesan Theological College and Middlebury College.

Register on Eventbrite: https://www.eventbrite.com/e/the-mind-the-moon-a-talk-about-the-mind-brain-human-dignity-and-spirit-registration-551692546257